The Role of Head of College
The Head of College serves as the chief administrative officer and the presiding faculty presence in Pauli Murray College. She is responsible for the safety and well-being of students, and works to foster the social, cultural, and educational life of the college. During the course of the year, the Head of College will host lectures, study breaks, game nights, and College Teas, among other events. The College Teas in particular offer students the opportunity to engage with invited guests from various parts of society and to partake in meaningful discussions.​
Our Head of College, Tina Lu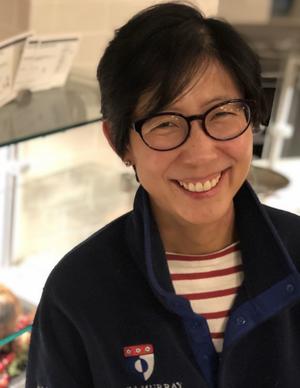 Tina Lu—known around these parts as Prof T—is the inaugural Head of Pauli Murray College. She is deeply invested in the residential college system as a microcosm of all that is best about Yale and dedicated to making this a space of belonging for all PauliMurs.  She and her family host many college events at their home, the Head of College House.
In addition, she is also the Colonel John Trumbull Professor of East Asian Languages and Civilizations, a department for which she served as chair for six years.  She graduated summa cum laude from Harvard College in 1990 and received her PhD in Comparative Literature from Harvard University in 1998, and before joining Yale taught at the University of Pennsylvania for ten years.  Her research and teaching focus on the literature of the late imperial period, from around 1550 to around 1750. Major publications include Persons, Roles and Minds (Stanford, 2001), Accidental Incest, Filial Cannibalism, and Other Peculiar Encounters in Late Imperial Chinese Literature (Harvard East Asian Monographs, 2009), a book-length chapter on late Ming literary culture in The Cambridge History of Chinese Literature, v.2, and a co-edited volume on Approaches to Teaching The Story of the Stone (MLA).  A new book is forthcoming from Harvard East Asian Monographs, The Coin and the Severed Head: On Fungibility and Ownership in the Seventeenth Century. She is the recipient of grants from the ACLS, the National Humanities Center, and the Mellon Foundation, and Accidental Incest was given the Gustav Ranis Prize in 2009. 
Her undergraduate courses include EALL 200, "The Chinese Tradition," an overview of Chinese culture and history from antiquity to the 20th century.  She also teaches classes on The Story of the Stone (also known as The Dream of the Red Chamber) and The Plum in the Golden Vase.  
Prof T's husband is Associate Head of College Stuart Semmel, a Senior Lecturer in History and in the Humanities Program (and known locally as Doc S). Besides teaching in Directed Studies ("Historical and Political Thought"), he teaches lecture classes on 19th-century Britain, the British empire, and global history, as well as seminars on film, literature, and The Crown. He received his A.B. and Ph.D. from Harvard University, where he and Professor Lu met as graduate students. Before coming to Yale, he was an Associate Professor at the University of Delaware. His first book looked at how British politics and culture made use of Napoleon Bonaparte; one current project reconstructs the life of an obscure early nineteenth-century woman who tried to influence British political opinion.
Prof T and Doc S have five children. Tovah and Natalie are members of the Class of 2025. Their younger siblings attend New Haven public schools: Eli is at New Haven Academy, and Ada and Rafi go to Worthington Hooker School. The HoC family dogs, Gwen and Fitz, are both corgi mixes, as far as we can tell. If you'd like to walk Gwen, please let us know! (Follow her on Instagram.) Fitz is a pandemic puppy who loves his family dearly but whose social skills need a lot of work. Hopefully, he'll learn to trust people, but for the moment we'll be restricting his visits to crowded spaces. Apologies if he barks fiercely at you.