The Role of Head of College
The Head of College serves as the chief administrative officer and the presiding faculty presence in Pauli Murray College. She is responsible for the safety and well-being of students, and works to foster the social, cultural, and educational life of the college. During the course of the year, the Head of College will host lectures, study breaks, game nights, and College Teas, among other events. The College Teas in particular offer students the opportunity to engage with invited guests from various parts of society and to partake in meaningful discussions.​
Our Head of College, Tina Lu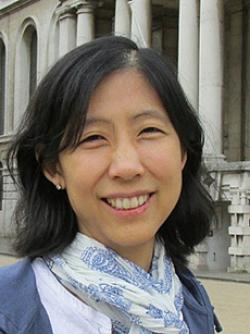 Tina Lu is the inaugural Head of Pauli Murray College. She joined Yale's Department of East Asian Languages and Literatures (EALL) in 2008, with a secondary appointment in the Department of Comparative Literature. She has served as EALL's Director of Graduate Studies (2009-2010) and Director of Undergraduate Studies (2012-2013) and has been Chair since 2013. In 2009, she was a visiting professor with the Yale-PKU program in Beijing; since 2013, she has been a consulting faculty member to Yale-NUS College, where she taught as a visiting professor in spring 2015.
Specializing in Chinese literature from 1550 to 1750, Professor Lu has written three books—one on personal identity, one on the nature of the human community, and the most recent (still being completed) about materiality. Noted President Salovey and Dean Holloway: "In the course of them, she has discussed a portrait that comes to life, optical illusions, and stories about severed heads!" Her current work examines time travel and its pre-modern antecedents. With colleagues at other universities in art history and social history, she is also at work on a collaborative book about Xu Wei, the 16th-century polymath, playwright, and painter.
One of her major ongoing projects is The Ten Thousand Rooms, a web-based platform she is developing with grant support from the Mellon Foundation (and in collaboration with her colleague Mick Hunter) that will allow scholars around the world to work together on the transcription, translation, and commentary of pre-modern Chinese sources. She has been an invited speaker and panelist at dozens of universities and other forums in the United States and internationally. In 2009, she was awarded the Gustav Ranis Prize for Best Book on an International Subject by a Yale Faculty Member, and from 2005 to 2011, she was a Mellon Foundation New Directions Fellow. She has served on numerous Yale advisory groups, from the Humanities Program Executive Committee to the Digital Humanities Executive Committee to the Yale-NUS Advisory Committee and Curriculum Review Committee. Her undergraduate courses include EALL 200, "The Chinese Tradition," an overview of Chinese culture and history from antiquity to the 20th century.
Professor Lu earned her A.B. in East Asian languages and civilizations and Ph.D. in comparative literature from Harvard University. Prior to coming to Yale, she was a member of the faculty at the University of Pennsylvania from 1998 to 2008, earning tenure in 2004.
At Pauli Murray College, Professor Lu is joined by her husband, Associate Head of College Stuart Semmel, a Senior Lecturer in history and in the Humanities Program. His teaching includes the Directed Studies course on "Historical and Political Thought" and history lectures on 19th-century Britain and on the British empire, as well as a variety of seminars. He received his A.B. and Ph.D. from Harvard University, where he and Professor Lu met as graduate students. Before coming to Yale, he was an Associate Professor at the University of Delaware. His first book looked at how British politics and culture made use of Napoleon Bonaparte; his current project reconstructs the life of an obscure early 19th-century woman who tried to influence British political opinion.
Professor Lu and Dr. Semmel have five children, all of whom attend New Haven public schools: Tovah (aged 15), a sophomore at Wilbur Cross; Natalie (also 15), a sophomore at New Haven Academy; Eli (aged 12), a seventh-grader at Worthington Hooker School; Ada (aged 9), a fourth-grader at Worthington Hooker; and Rafi (aged 6), a first-grader at Worthington Hooker. The siblings, like their piano-playing father, are musically inclined, counting among them a saxophonist, a violinist, a cellist, and a pianist (Rafi does not yet play an instrument).  "Their other interests range from David Bowie to 'Hamilton,' and from Peppa Pig to the more obscure of Madeleine L'Engle's novels," wrote Salovey and Hollway, adding, "They have been lobbying their parents for a Pauli Murray College inaugural dog." After much lobbying, the five Semmel-Lu kids persuaded their parents to adopt the inaugural Pauli Murray dog, a corgi-Jack Russell mix named Gwen.  PauliMurs will see her frolicking in the courtyard.
The family are avid travelers, sometimes referring to themselves as the Traveling Semmel-Lus, and have spent semesters abroad in both China and Singapore. They look forward to hosting—and perhaps playing in—musical events in the college.