The Role of Dean
The Dean is the chief academic officer of Pauli Murray College and a faculty member in Yale College. Residing within the college, he serves as the primary academic adviser to the students of Pauli Murray College; assists students in planning their courses of study and academic programs within the broader context of their Yale careers; and applies and enforces academic and undergraduate regulations and procedures. The Dean also directs housing within the college, oversees the First-Year Counselors, and coordinates the College Advisers for first-year students. He teaches in Yale College, serves on a range of University committees, and with the Head of College, plans and participates in many college activities.
Our Dean, Alexander Rosas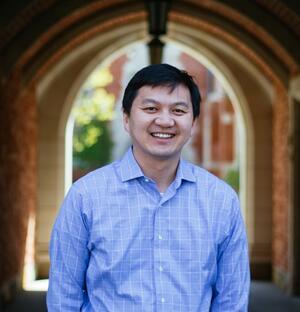 Alexander Rosas is the inaugural Dean of Pauli Murray College. Born in Seoul, South Korea, and raised in East Grand Rapids, Michigan, Dean Rosas received his B.A. degree, with honors and distinction, in international relations from Stanford University, and his J.D. degree, Order of the Coif, and his Ph.D. degree in jurisprudence and social policy from the University of California, Berkeley. He is admitted to practice law in the State of New York. 
Dean Rosas' academic interests in political theory and law lie in issues of international human rights law and cultural diversity, theories of justice, and law and society. He is particularly interested in how modern nation-states can and should (or cannot and should not) use law to negotiate between markedly different cultural and religious groups and, more generally, in the complex relationship between law and freedom. Dean Rosas teaches in the Department of Political Science; currently, he offers a political theory seminar on Law and the Limits of Freedom and another on Punishment.
Formerly Associate Director of Graduate Programs at the Yale Law School, Dean Rosas has been at Yale since 2015; at Yale, he has also been a Fellow in Branford College. Between 2011 and 2015, he served as Assistant Professor of Political Science, Director of the Program in Law and Society, and University Pre-Law Adviser at Western New England University in Springfield, Massachusetts.
Dean Rosas lives in the Dean's residence in Pauli Murray College with his wife, a federal judge; their two young sons; and their two dogs, Marbury and Madison, named after the famous Supreme Court case.
Dean Rosas can be contacted at alexander[dot]rosas[at]yale[dot]edu or through Sarah DelVecchio in the Pauli Murray College Dean's Office.
Additional Information
A standard note about 
Dean's Extensions
 can be found 
here
.