The First-Year Counselors—or FroCos!—are an integral part of Yale's residential college experience and Yale's advising system. Living in the same entryways as the first-year students, the First-Year Counselors are there to ease and support the transition of incoming first-year students to the academic, extracurricular, social, and cultural life of Yale. Below are the 2021-2022 First-Year Counselors in Pauli Murray College.
Dennis Portillo, Head First-Year Counselor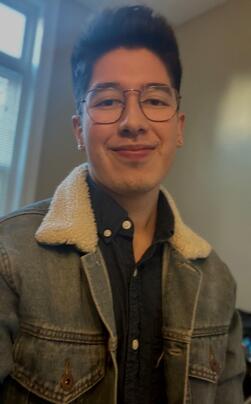 Dennis Portillo was born and raised in South Central Los Angeles and is a first-generation Guatemalan- American student majoring in Political Science. A proud Angelino, Yale for Dennis has generally come to be defined as his first genuine opportunity at being away from home. In the time that he has spent here, much of it to him is considered a journey of self-exploration where he has seen his interests and passions take form and grow throughout the years. Academically speaking, Dennis is primarily interested in exploring the various manners in which political institutions and business actors often interlock across the multiple venues of governance. Dennis aims explores these intersections as he navigates the professional world, with a later goal of eventually coming back to school in mind, wanting to either pursue a Masters of Public Policy and/or a Masters of Business Administration. Outside of class, Dennis has primarily been involved with La Casa Cultural, where has previous served as a Peer Liaison for two years and taken key roles within student groups such as his fraternity La Unidad Latina, Sube: Yale Latinx Business and Leadership, and CAFÉ: Central Americans for Empowerment. When not in meetings or catching up on readings, you can find Dennis either at the gym, playing videogames, watching a sports game (usually soccer), or scrolling online while drinking a cup of coffee. 
Jack Chapman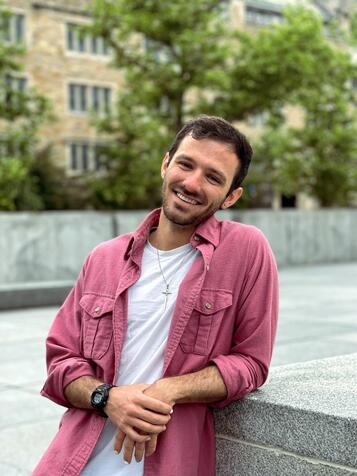 Jack Chapman moved to Connecticut from the tiny town of Mason, Texas, so he still thinks of New Haven as a Big City. As a Physics and Philosophy major, he's not quite sure what he wants to be when he grows up… In the meantime, though, Jack's a huge sci-fi and fantasy fan and is all too happy to talk about Octavia Butler or Ted Chiang. He spent his first two years at Yale running hurdles on the varsity track team, but has since cartwheeled (literally) into club gymnastics.  When he's not backflipping away from his physics homework, you can find Jack volunteering with community organizations through Dwight Hall, experimenting with charcoal and watercolor, or convincing his friends to watch RuPaul's Drag Race. He's always down for a round of Super Smash Bros. or Mario Kart, but beware: he plays to win. After a year away from Yale, Jack is thrilled to return to Pauli Murray College and can't wait to organize morning coffee chats and evening walks!
Ivory Fu
 Ivory Fu (she/her) was raised in New York City, where she developed a curiosity for all things creative. She's an Art and Molecular, Cellular and Developmental Biology major interested in the intersections of visual arts and medicine. When she's not giving tours as a Gallery Guide at the university's Art Gallery— her favorite spot on campus— you can find her painting at the art school or conducting neuroscience research on cute mice at the School of Medicine. Ivory loves hanging out at the Asian American Cultural Center, where she served as social chair of the Chinese American Students Association, and volunteering at HAVEN Free Clinic and the Yale New Haven Hospital. Thanks to various programs and fellowships, she's worked and studied abroad in Japan, China, and Taiwan, where she spent her recent gap year. Nothing makes her happier than making art for the people she loves and the organizations (Politic, Yale Scientific Magazine, Design for America) she cares about. She has a bad habit of forgoing sleep for sketching ideas, blasting alternative music, and having long chats about everything from Stoicism to queer politics at St. Anthony Hall, her society's building. If you ever need a change of scenery, she's always down to try new museums, restaurants, art classes, or music concerts with you!
Andrew Harmez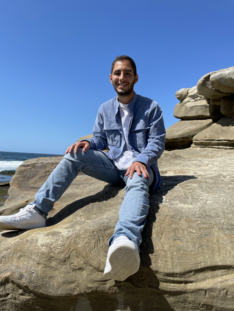 Although Andrew Harmez was born in Mississauga, Canada, he grew  up in America's finest city: San Diego, California. Andrew comes from a very large family of Iraqi immigrants and is the first to go to college. Here at Yale, he studies Molecular, Cellular, and Developmental Biology while also obtaining a certificate of advanced language study in Spanish. He is interested in all things science and medicine and plans to attend medical school or work with a biotech company in the future. Before becoming a FroCo, Andrew was a mentor for STARS I, a program designed to support underrepresented students in STEM (he will be a STARS I mentor this year as well!). On the weekends, Andrew volunteers as an interpreter for HAVEN, a free clinic for the New Haven community. When he is not riding around ambulances as a registered EMT or messing with amoebas in the lab, you can find him exploring Yale's many libraries, drinking boba around New Haven, or chilling in the suite playing the Nintendo Switch (ask him to play smash). One of his favorite things about college is getting to meet so many new and diverse people. If you ever catch him walking around or in the dining hall, don't be afraid to stop and have a chat. Andrew loves to stay active by proudly representing Murray in intramurals, captaining the Men's Club Volleyball team, hiking East Rock, and best of all: pickup basketball in Murray's own basement.
Lillie Horton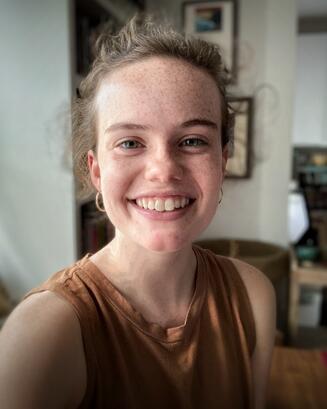 Lillie Horton is a Minneapolis, Minnesota native studying Global Affairs with a focus on international security and US-China relations. She is specifically interested in how diplomacy can help facilitate the clean energy transition and plans on pursuing a master's degree in international relations after Yale. On campus, Lillie has planned model UN conferences with the Yale International Relations Association, tutored through Yale's Matriculate cohort, and danced with the Yale Ballet Company. On campus she also works for the Student Technology Collaborative, troubleshooting anything from wifi issues to coffee-spilled-on-laptops (visit STC!). Last but certainly not least, Lillie has worked as a Pauli Murray College Aide since her first semester. As an aide, she has enjoyed getting to know her fellow LiMurs and bonding over cups of tea at College events. In her spare time, Lillie can be found hiking in East Rock Park, browsing local bakeries (she's always hunting for new breads!), or picnicking around campus with friends. This coming year, she is excited to keep exploring New Haven's restaurants and museums and to welcome the new first-years to campus!
Zach Karpovich
Zach Karpovich is originally from Rye, New York, and he is majoring in Economics. Zach is passionate about environmental issues and entrepreneurship, and he is also interested in exploring environmental sustainability in the business community. During his time at Yale, Zach has engaged extensively in non-profit consulting work, serving as the CFO and Director of Finance for Elmseed and Yale GRC, respectively. Zach has also interned at non-profit consulting organizations and hopes to one day launch his own start-up! Outside of class, Zach loves to bake and eat desserts (he feels passionately about the Arethusa vs. Ashley's debate), workout in the Pauli Murray gym, and spend sunny days on Cross Campus. Zach also enjoys binge watching TV shows and is always down to rant about how the ending of Gossip Girl doesn't make sense or hear your take on Avatar vs. the Legend of Korra.
Afia Kuragu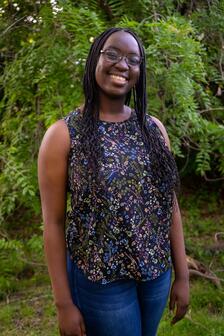 A Long Island native, Afia Kuragu is majoring in Molecular, Cellular, and Developmental Biology, hoping to attend medical school after graduation. Outside of class, she conducts research on protein translation initiation and mRNA translational output at the Wendy Gilbert Lab at the Yale School of Medicine. When not in the classroom or the lab, you can find Afia volunteering at the HAVEN Free Clinic with the pharmacy department or conducting blood-pressure screenings with the Hypertension Awareness & Prevention Program at Yale. However, you will most likely see her running around campus and cheering at any and all Yale Athletics events as a member of the flute section in the Yale Precision Marching Band. During her free time, you can probably find her working away in the Pauli Murray Library, practicing at the Yale School of Music, or just taking a walk around campus enjoying the New Haven weather (before it gets too cold of course!). Afia is thrilled to get back to campus in the Fall, ready to share all Yale has to offer with the Class of 2025!
Brian Liu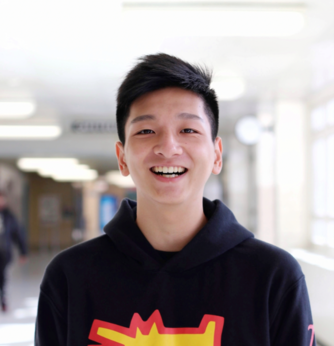 Brian Liu grew up in Queens, New York, and is majoring in Computer Science and Math. He's very passionate about his hometown, Flushing, and will visit literally anytime he has a chance. At Yale, Brian's been lucky to have the opportunity to dabble in many extracurricular scenes - from healthcare and entrepreneurship to non-profits and investing, cultural groups, and most recently, international relations and Model United Nations. He is grateful for the community he's found at Yale and hopes to create the same experience for others. When Brian's not doing any of the above, he's probably ordering wings and watching Netflix. If you ever need a Netflix buddy, he'll be here for you!
Lu Zheng
Originally born in Shanghai, Lulu Zheng has called Nashville home for the past 13 years. Majoring in Statistics & Data Science and Economics, she is interested in public economics research, particularly in the evaluation of governmental programs, and has also interned in finance. Lulu is a founding member and President of Art Exhibition Students at Yale (AESY), a group that organizes art exhibitions on campus. She has also illustrated for the Yale Daily News and China Hands magazine, and she is involved in TA-ing Yale's introductory statistics classes. Lulu is an avid fan of fried chicken (it's part of her personality at this point), and in her free time, she enjoys getting boba and exploring the food scene in New Haven. She also loves watching action thriller movies, Criminal Minds, Friends, and Bones using her projector, which she finds a very worthwhile purchase and is eager to share with you!
Helen Zhuo
A proud native of New York City, Helen Zhuo is a double-major in History of Science, Medicine, and Public Health, and Economics, simultaneously pursuing her Masters in Public Health in Healthcare Management. Helen has a passion for healthcare equity/access and hopes to use her degrees to improve healthcare delivery mechanisms and overall care coordination, bridging the gap between healthcare as a business and healthcare as a necessary service. In addition to her studies, she does research with the Obesity, Lifestyle, and Genetic Adaptations (OLAGA) Samoan Obesity Research Group at the Yale School of Public Health, working on projects regarding the ethical and social implications of obesity and genetics research. Outside of the classroom, Helen enjoys working with elementary and middle school students through PALS, a tutoring and mentoring organization. However, the bulk of her extracurricular time is spent within the wonderful Pauli Murray community. Serving as the Pauli Murray College Council (MYCC) President for the 2020-2021 academic year, she has collaborated with the college office to plan events ranging from dances and study breaks to ski trips and Murray Day festivities for her fellow LiMurs. During her free time, you can probably find her working at a coffee shop (she will gladly show you where Fussy Coffee is!), reading The New Yorker with a latte in hand, or binge-watching a new TV show (recommendations are always welcome!). As Helen enters her senior year, she is excited not only to continue to explore all Yale has to offer, but also to experience many firsts and lasts alongside her amazing first-years!